Blog
Three Ways the Metasite Model Creates Value for Dermatologic Clinical Trials
Author: Robert Stavert, M.D., M.B.A, Medical Director, Dermatology, Science 37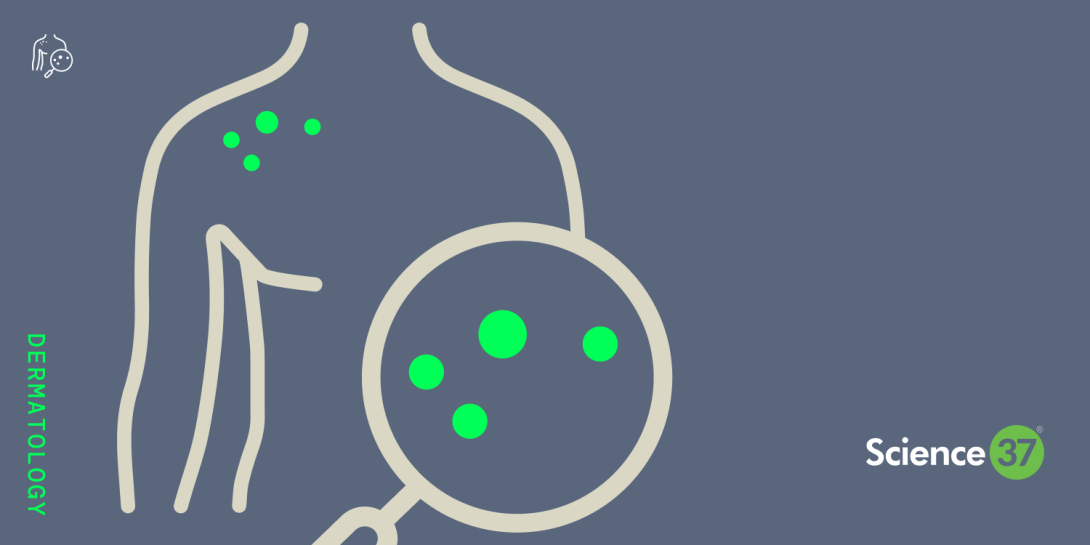 The past decade has brought an explosion of new therapies for patients with dermatologic disease. With numerous new treatments on the horizon, it is an exciting and hopeful time for patients experiencing a variety of dermatologic conditions.  In order to accelerate and deliver on the promise of these new therapies, sponsors and clinical researchers must overcome a variety of challenges at the clinical trial stage.
First, identification and retention of interested and eligible patients is a persistent challenge. For common dermatologic conditions, such as atopic dermatitis and psoriasis, the increasing number of already approved therapies, can make it difficult to identify patients who are interested in participating in a clinical trial for an unproven therapy, or who are not on exclusionary medications. For those patients who are eligible and interested, the burden of traveling to study sites for multiple visits may make them unwilling to enroll or remain in a trial. Participant preferences have evolved such that many people prefer to leverage technology to interface with services in the comfort of their home, rather than travel unless it is absolutely necessary. Challenges also exist in recruiting eligible participants with a diversity of ethnic and racial backgrounds, to ensure broad representation as highlighted by recent FDA guidance. Finally, ensuring that high-quality, consistent data, obtained in accordance with all regulatory requirements, is reliably produced, is of paramount importance.
Because of these dynamics, virtual clinical trial models present a unique solution for conducting clinical studies in people with dermatologic conditions. A virtual site like the Science 37 Metasite™ brings the clinical trial to the patient, allowing patients to be recruited from anywhere and to be seen by an investigator, in their own homes. In these models, clinical trial protocols are designed to leverage mobile nurses, telemedicine investigators, direct-to-patient shipping, and direct-from-patient endpoint and biospecimen collection. The end result is typically faster startup time, increased retention, and a more diverse patient population that is accurately reflective of real-world patients.
Specific to dermatology, there are three main reasons why sponsors and researchers should consider deploying virtual clinical trial models and methods for their clinical studies:
Access previously inaccessible patients
A virtual clinical trial site, such as the Science 37 Metasite, has the ability to connect with patient communities that are not typically engaged in clinical research. By providing patients with a convenient, in-home option for clinical trial participation, the time, travel, and cost burdens are minimized, enabling broader participation. Because studies utilizing the Science 37 Metasite are not limited by geography, they can be more effective at enrolling and retaining eligible patients. This attribute helps the Metasite add significant value to clinical trials for both common dermatologic conditions, such as atopic dermatitis and psoriasis, as well as rare diseases, such as pemphigus vulgaris. In one recent example, the Science 37 Metasite was utilized in parallel with several traditional brick-and-mortar sites for a rare disease trial involving both an oral drug and an intravenous infusion. The Metasite solution leveraged mobile nurses, digital clinical outcome assessments, and telemedicine visits with investigators to operate a virtual site that was able to start up 2x faster than the physical sites.
Enhance participant diversity
The Science 37 Metasite's ability to engage with participants, regardless of geographic location, removes a barrier to improving diversity among clinical trial participants. The flexibility and convenience offered by allowing patients to participate from their own home provides new opportunities for interested participants who previously could not participate due to barriers such as work schedules, childcare needs, or physical limitations. By broadening the pool of potential trial participants, new opportunities are created to enroll diverse participants, in particular racial and ethnic minorities who have been historically underrepresented in dermatologic clinical trials. Facilitating and enhancing participant diversity helps to ensure that participants in clinical trials are representative of the individuals who will ultimately use the medical products. 
Leverage operational and technological expertise
The visual nature of dermatology makes it particularly suitable for the virtual trial model. Science 37 was founded by dermatologists and has pioneered the use of photography to conduct clinical assessments. Science 37 physicians and scientists have authored numerous publications in leading dermatologic journals demonstrating the validity and reliability of using photography for clinical assessments for multiple conditions, such as acne, atopic dermatitis, and psoriasis. Science 37's unique experience developing standardized methods of obtaining high quality images for dermatologic clinical assessments, ensures that consistent, high-quality data is produced during the conduct of the study. The Science 37 Metasite enables the capture of study data within a single platform that is secure, easily audited, and compliant with regulations.
The shift in patient preference toward remote healthcare delivery and clinical research participation is fundamentally changing how clinical trials are conducted. For patients with dermatologic conditions, a virtual clinical trial model such as the Science 37 Metasite expands access to clinical research, helps improve retention and compliance, and ultimately helps to bring much-needed therapies to patients more quickly.